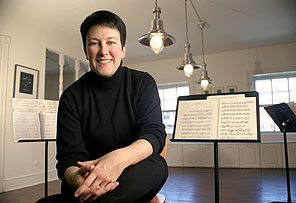 Pulitzer Prize winner Jennifer Higdon maintains a full schedule of commissions and her music is known for its technical skill and audience appeal.
"There's something very American in the sound of her music, and something I'm tempted to call joyful--not in terms of what is expressed...but in how it is expressed. She is a composer in love with composing." -The Baltimore Sun
PAUL CRESTON AWARD CONCERT CELEBRATION, St. Malachy's Roman Catholic Church, 239 West 49th Street, New York
May 20, 2016, 7:30pm

The Paul Creston Award was established to honor leading figures in the performing arts world who embody Creston's philosophy and ideals and also have significant standing in the sacred music world. While Higdon is not a church musician, her body of work includes sacred/spiritual music and was viewed by the award committee to stand in the tradition of the 'Creston Creed' or philosophical model. As one of the most commissioned living American composers today, she represents, much like Paul Creston did, great passion and depth in the creative process and Higdon is greatly honored to receive this special recognition.
NEW RELEASES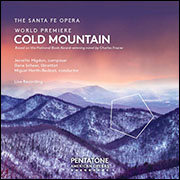 Higdon is pleased to announce the April 2016 release of the world premiere recording of her first opera, Cold Mountain.  This live recording with the Santa Fe Opera (Miguel Harth-Bedoya, conducting) features performances by Isabel Leonard, Nathan Gunn, Emily Fons, Jay Hunter-Morris, Kevin Burdette, and Roger Honeywell. This recording will be available on www.pentatonemusic.com and www.amazon.com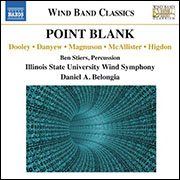 Higdon is happy to be a part of this new recording by the Illinois State University Wind Symphony, Daniel Belongia, conducting.  Higdon's Percussion Concerto is performed by percussionist, Ben Stiers.  The orchestra version of this work won a Grammy for Higdon in 2010.  This recording is now available through amazon.com and naxos.com.